Pomegranate Dark Chocolate Bark
by Amylee Amos MS, RDN, IFMCP
Recipes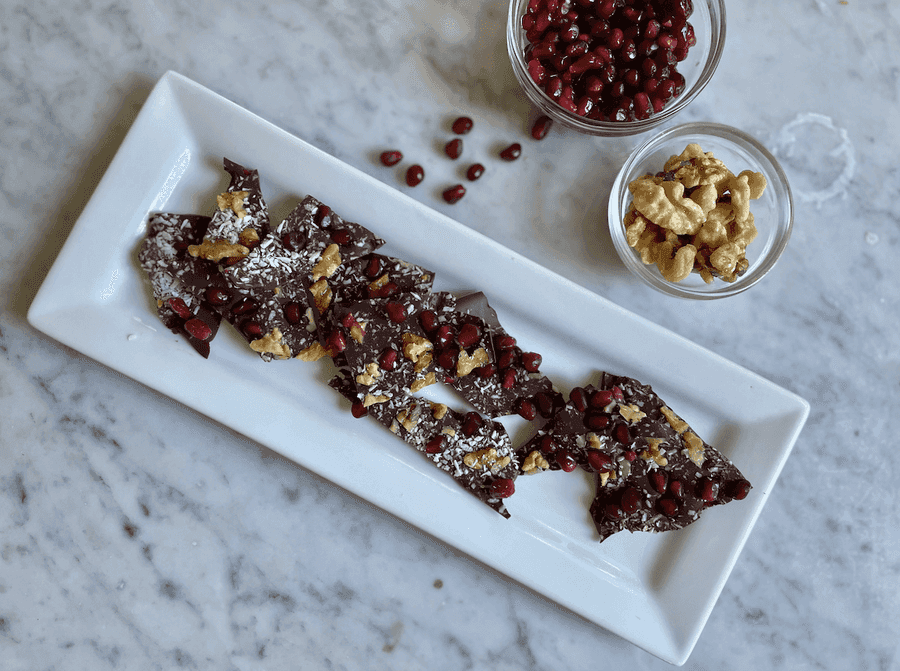 There are so many wonderful health benefits to dark chocolate. Dark chocolate, when sourced appropriately, is one of those wonderful foods that is highly indulgent, but we can feel great about eating. While eating plain dark chocolate is delicious and satisfying, sometimes it's nice to have a little variety. While most flavored dark chocolates are laden with sugar, homemade chocolate bark is a great way to spice up your favorite healthy dessert and add even greater nutritional value. 
This pomegranate bark includes juicy and flavorful pomegranate arils. The health benefits to pomegranate are vast. Pomegranates have the highest oxygen radical absorption capacity (ORAC) of all fruits. Because of this, they are the most potent antioxidant, even above blueberries, which often get a lot of attention because of their anthocyanins, a phytonutrient that's abundant in blueberries, but also found in pomegranates. 
Pomegranates also contain unique ellagitannins which serve as probiotics for the microbiome and also help to prevent inflammation, cancer growth and atherogenesis within the body (1). The ellagitannins from pomegranates also have a chemopreventive potential against prostate cancer as they inhibit the rise of PSA levels (2-3). 
This bark is a delicious treat and provides exceptional benefit. Feel free to mix up the other toppings as needed to meet your preference and to keep the variety!
Ingredients:
1 bar 82% dark chocolate
1 tablespoon coconut oil
⅓ cup pomegranate arils
⅛ cup unsweetened coconut shreds
⅛ cup walnuts, chopped 
Directions: 
Melt chocolate with coconut oil in a double boiler. 
Pour an even layer onto a pice of parchment.
Sprinkle the walnuts, coconut, and pomegranate evenly on top.
Place in the freezer for at least 30 minutes. 
Once frozen, break into pieces and enjoy. 
---
References: 
Heber D. Pomegranate Ellagitannins. 2011.
Vicinanza, et al. https://doi.org/10.1155/2013/247504
Pantuck, et al doi:10.1158/1078-0432.CCR-05-2290