Warming Vegetable Curry
by Amylee Amos PhD, RDN, IFMCP
Recipes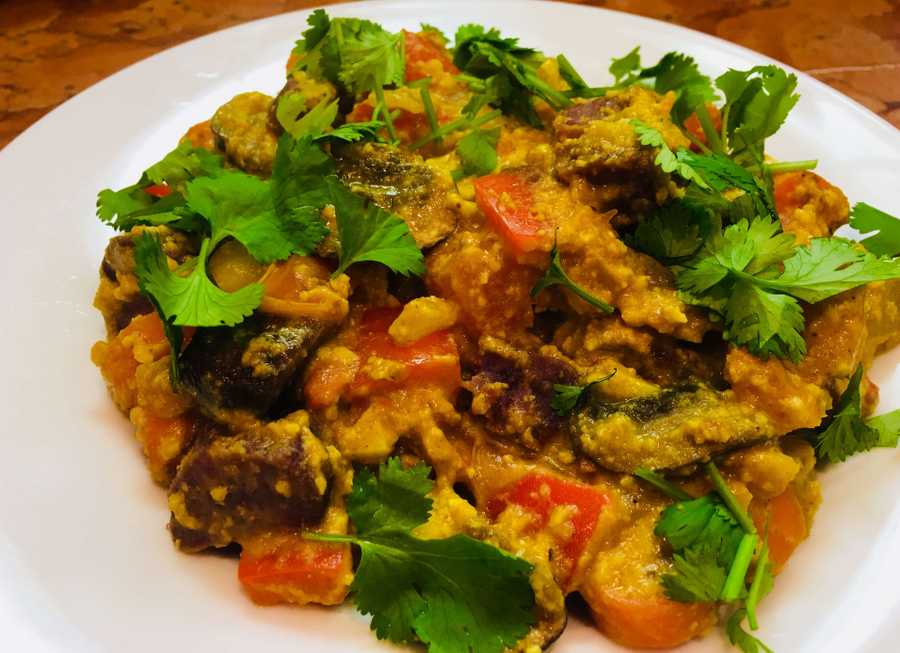 In our last blog post, we raved about the incredible benefits of turmeric. To sum it up, turmeric has been well studied for its anti-inflammatory and antioxidant properties. Perhaps because of these benefits and other synergistic effects, turmeric has been found to possess anti-Alzheimer's and anti-cancer abilities, making it a powerful addition to the diet.
This warming vegetable curry is the perfect way to increase the turmeric in your diet. Curry (specifically yellow curry) is a blend of spices, including ground turmeric. This recipe calls for a ready made curry spice blend, which can be found at most all grocery stores, but you can also make your own curry if you're feeling adventurous! Most good curry powders also contain ground cumin, coriander, cinnamon, cardamom, and cayenne- all of which have potent disease fighting properties of their own. We've also added garam masala, which ups the warming factor of this dish.
On top of all of that, this dish is a rainbow of colorful veggies. It is a fabulous way to increase your daily vegetable intake, and all of the fiber and phytonutrients that come packed in those veggies will leave you feeling incredible. This dish also provides healthy fats from the cashews and hemp seeds. Feel free to add a lean protein, such as baked tempeh or a wild caught cod filet if needed.
This recipe serves 2
Ingredients:
½ cup raw cashews, soaked and blended in 1 cup of fresh water
1 Tbsp avocado oil
1 yellow onion, diced
6 cloves garlic, minced
1 ½ tsp. ginger, peeled and grated
1 small sweet potato, peeled and diced
3 medium carrots, diced
1 red bell pepper, chopped
1 cup mushrooms, sliced
1 large tomato, chopped
2 Tbsp. curry powder
¼ tsp. Garam masala
½ tsp sea salt
1 bunch cilantro, chopped
1 Tbsp hemp seeds
Directions:
Make the cashew cream by soaking the cashews in water for about 8 hours. Then drain the cashews, add fresh water and blend in a food processor until smooth. Note: if you don't have 8 hours to soak, soak the cashews in boiling water for as long as you can.
Add the avocado oil to a large pan and saute the onion, garlic, and ginger for 5 minutes on medium heat.
Once the onion appears translucent add the sweet potato, carrot, bell pepper, mushrooms, tomato, curry, garam masala, and salt. Saute for 10 minutes.
Add the blended cashews, lower heat to medium low, cover, and simmer for 40 minutes or until sweet potato is soft.
Garnish with cilantro and hemp seeds and serve immediately.