The Best Foods for Your Memory
by Ericka Naegle MS, RDN
Nutrition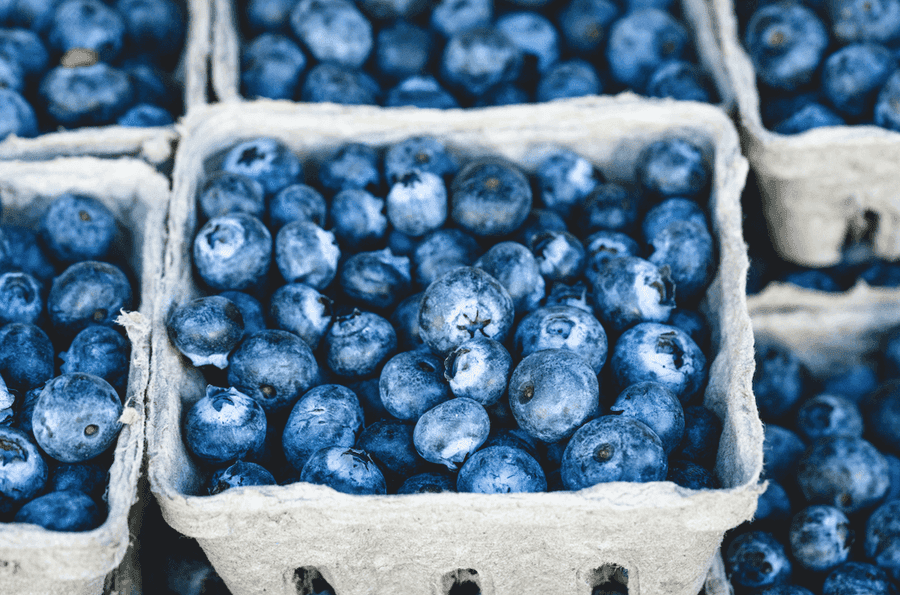 Research has shown that dietary habits can impact cognitive function and that certain foods can actually slow cognitive decline and enhance memory. Studies on humans reveal that the following six categories of foods – all part of a healthy, whole foods diet – may be best for your memory.
Berries
Berries contain a range of phytonutrients, including anthocyanin, catechin, quercetin and tannin, which have been associated with neuroprotective effects in many animal studies (1). One study in 16,000 women over 70 years old found that those who ate one or more servings of blueberries, or two or more servings of strawberries, per week performed better on memory tests over four years and appeared to delay their overall cognitive aging by as much as 2.5 years (2). In another study, a group of older adults with age-related memory decline who drank wild blueberry juice in addition to their normal diet showed improved memory function after 12 weeks (3).
Green leafy & cruciferous vegetables
Vegetables contain a variety of vitamins and phytonutrients that have been linked to cognitive health and memory, including vitamin E, folate (vitamin B-9) and carotenoids like lutein (4, 5, 6). In a study of approximately 15,000 women over 70 years old, intake of both cruciferous vegetables (defined as broccoli, cauliflower, cabbage, Brussels sprouts, kale, mustard greens and chard) and green, leafy vegetables (lettuce, spinach, kale, mustard greens and chard) was associated with less cognitive decline, including better performance in memory assessments. Those who ate these foods most frequently showed the greatest benefits (5). A subsequent study of 3,718 adults over 65 replicated these results (7).
Nuts
Nuts are nutrient-dense foods that are high in protein, unsaturated fat, dietary fiber, antioxidants and phytochemicals (8). Walnuts in particular are high in alpha-linolenic acid (ALA), which is crucial to brain function. In one large study that looked at dietary habits among Americans aged 20 to 90, researchers found that walnut consumption was linked to better cognitive function across age groups. Adults over 60 who reported eating walnuts in the past 24 hours also performed better on two memory tests than their peers who did not (9). A study that looked at long-term walnut consumption among women over 70 associated higher nut intake with better overall cognition and memory (8).
Fatty fish
Omega-3 fatty acids, found in fatty fish like salmon, sardines and mackerel, have been associated with reduced risk of Alzheimer's disease and cognitive decline in animal studies (10). In a study on over 6,000 adults over 65, those who consumed one fish meal per week showed 10% slower cognitive decline, and those who ate two or more fish meals per week showed 13% slower decline. While the study was not able to specifically associate omega-3 fatty acids to the results, fish eaters nonetheless slowed their rate of cognitive decline by the equivalent of being three to four years younger (10). Another study in 5,998 older women over four years found that those who ate at least one serving per week of fattier, "dark-meat finfish" (defined as salmon, mackerel, sardine, herring, trout, swordfish, tuna) had a better memory for information that had received verbally than those who ate these fish less than once per week; the difference was equivalent to being 2.1 years younger (11). Similarly, a Chinese study showed that at least one serving of fish per week was associated with slower decline in memory and overall cognition in adults over 65 (12).
Dark chocolate
Scientists believe that the flavonoids in cocoa impact cognitive function through the pathways used in memory processing (13). Two studies of healthy young people concluded that improvements to cognitive performance, including in working memory, may be due to the cocoa flavonols present in a single serving of dark chocolate consumed two hours before testing (14, 15). In adults aged 23 to 98, chocolate intake at least once per week correlated to better scores on memory tests, with those who ate chocolate multiple times per week performing best (16).
Coffee & tea
Coffee and tea also contain a range of phytonutrients that have been associated with enhanced cognition, including the chlorogenic acids in coffee (17) and the catechins in green tea (18). In a study on kidney dialysis patients, three-quarters of whom experienced cognitive impairment, habitual coffee drinkers performed better on cognitive tests measuring attention, concentration and working memory than those who did not drink coffee (19). Another study in healthy adults under 30 found that supplementing with a 200 mg caffeine tablet enhanced the ability to consolidate recent experiences into long-term memory (20). Two studies found that caffeine and l-theanine, an amino acid in green tea, significantly enhanced memory when consumed together (21, 22). Long-term green tea consumption has also been associated with better memory, executive function and information processing speed (23).
If you are looking to protect or even improve your memory, incorporating these foods into your diet may help you do just that. They are packed with beneficial compounds like vitamins and polyphenols, the beneficial effects of which are supported by substantial research. Try some green tea with breakfast, a spinach salad with salmon for lunch and some blueberries and walnuts for a snack. And treat yourself with some dark chocolate for dessert – it's good for your memory!
---
References
Subash, S., Essa, M.M., Al-Adawi, S., Memom, M.A., Manivasagam, T., & Akbar, M. (2014). Neuroprotective effects of berry fruits on neurodegenerative diseases.Neural Regeneration Research 9(16), 1557 – 1566.
Devore, E.E., Kang, J.H., Breteler, M.M.B., & Grodstein, F. (2012). Dietary intakes of berries and flavonoids in relation to cognitive decline.Annals of Neurology 72,135-143.
Krikorian, R., Shidler, M.D., Nash, T.A., Kalt, W., Vinqvist-Tymchuk, M.R., Shukitt-Hale, B., & Joseph, J.A. (2010). Blueberry supplementation improves memory in older adults.Journal of Agricultural and Food Chemistry 58,3996-4000. 10.1021/jf9029332
Perkins, A.J., Hendrie, H.C., Callahan, C.M., Gao, S., Unverzagt, F.W., Xu, Y., Hall, K.S., & Hui, S.L. (1999). Association of antioxidants with memory in a multiethnic elderly sample using the Third National Health and Nutrition Examination Survey.American Journal of Epidemiology 150(1), 37-44.
Kang, J.H., Ascherio, A., & Grodstein, F. (2005). Fruit and vegetable consumption in aging women.Annals of Neurology 57,713-720.
Walk, A.M., Edwards, C.G., Baumgartner, N.W., Chojnacki, M.R., Covello, A.R., Reeser, G.E., Hammond, B.R., Renzi-Hammond, L.M., & Khan, N.A. (2017). The role of retinal carotenoids and age on neuroelectric indices of attentional control among early to middle-aged adults.Frontiers in Aging Neuroscience 9,1-13. 10.3389/fnagi.2017.00183
Morris, M.C., Evans, D.A., Tangney, C.C., Bienias, J.L., & Wilson, R.S. (2006). Associations of vegetable and fruit consumption with age-related cognitive change.Neurology 67,1370-1376.
O'Brien, J., Okereke, O., Devore, E., Rosner, B., Breteler, M., & Grodstein, F. (2014). Long-term intake of nuts in relation to cognitive function in older women.Journal of Nutrition, Health & Aging 18(5), 496-502.
Arab, L. & Ang, A., (2015). A cross sectional study of the association between walnut consumption and cognitive function among adult US populations represented in NHANES.Journal of Nutrition, Health & Aging, 19(3), 284-290.
Morris, M.C., Evans, D.A., Tangney, C.C., Bienias, J.L., & Wilson, R.S. (2005). Fish consumption and cognitive decline with age in a large community study.Archives of Neurology 62,1849-1853.
Kim, D.H., Grodstein, F., Rosner, B., Kang, J.H., Cook, N.R., Manson, J.E., Buring, J.E., Willett, W.C., & Okerke, O.I. (2013). Seafood types and age-related cognitive decline in the Women's Health Study.Journal of Gerontology: Medical Sciences, 68(10), 1255-1262.
Qin, B., Plassman, B.L., Edwards, L.J., Popkin, B.M., Adair, L.S., & Mendez, M.A. (2014). Fish intake is associated with slower cognitive decline in Chinese older adults.Journal of Nutrition 144(10), 1579-1585. 10.3945/jn.114.193854
Nehlig, A. (2013). The neuroprotective effects of cocoa flavanol and its influence on cognitive performance.British Journal of Clinical Pharmacology,75(3), 716–727. doi.org/10.1111/j.1365-2125.2012.04378.x
Field, D., Williams, C., & Butler, L. (2011). Consumption of cocoa flavanols results in an acute improvement in visual and cognitive functions.Physiology & Behavior,103(3-4), 255–260. doi.org/10.1016/j.physbeh.2011.02.013
Grassi, D., Socci, V., Tempesta, D., Ferri, C., De Gennaro, L., Desideri, G., & Ferrara, M. (2016). Flavanol-rich chocolate acutely improves arterial function and working memory performance counteracting the effects of sleep deprivation in healthy individuals.Journal of Hypertension,34(7), 1298–1308. doi.org/10.1097/hjh.0000000000000926
Crichton, G., Elias, M., & Alkerwi, A. (2016). Chocolate intake is associated with better cognitive function: The Maine-Syracuse Longitudinal Study.Appetite,100, 126–132. doi.org/10.1016/j.appet.2016.02.010
Heitman, E., & Ingram, D. (2017). Cognitive and neuroprotective effects of chlorogenic acid.Nutritional Neuroscience,20(1), 32–39. doi.org/10.1179/1476830514Y.0000000146
Mancini, E., Beglinger, C., Drewe, J., Zanchi, D., Lang, U., & Borgwardt, S. (2017). Green tea effects on cognition, mood and human brain function: A systematic review.Phytomedicine (Stuttgart),34, 26–37. doi.org/10.1016/j.phymed.2017.07.008
Nikić, P., Andrić, B., Stojimirović, B., Trbojevic-Stanković, J., & Bukumirić, Z. (2014). Habitual coffee consumption enhances attention and vigilance in hemodialysis patients.BioMed Research International,2014, 707460–707467. doi.org/10.1155/2014/707460
Borota, D., Murray, E., Keceli, G., Chang, A., Watabe, J., Ly, M., Toscano, J., & Yassa, M. (2014). Post-study caffeine administration enhances memory consolidation in humans.Nature Neuroscience,17(2), 201–203. doi.org/10.1038/nn.3623
Haskell-Ramsay, C., Jackson, P., Forster, J., Dodd, F., Bowerbank, S., & Kennedy, D. (2018). The acute effects of caffeinated black coffee on cognition and mood in healthy young and older adults.Nutrients,10(10), 1386. doi.org/10.3390/nu10101386
Kelly, S., Gomez-Ramirez, M., Montesi, J., & Foxe, J. (2008). L-theanine and caffeine in combination affect human cognition as evidenced by oscillatory alpha-band activity and attention task performance.The Journal of Nutrition,138(8), 1572S–1577S. doi.org/10.1093/jn/138.8.1572S
Feng, L., Gwee, X., Kua, E., & Ng, T. (2010). Cognitive function and tea consumption in community dwelling older Chinese in Singapore.The Journal of Nutrition, Health & Aging,14(6), 433–438. doi.org/10.1007/s12603-010-0095-9