Tempeh Taco Bowl
by Amylee Amos PhD, RDN, IFMCP
Recipes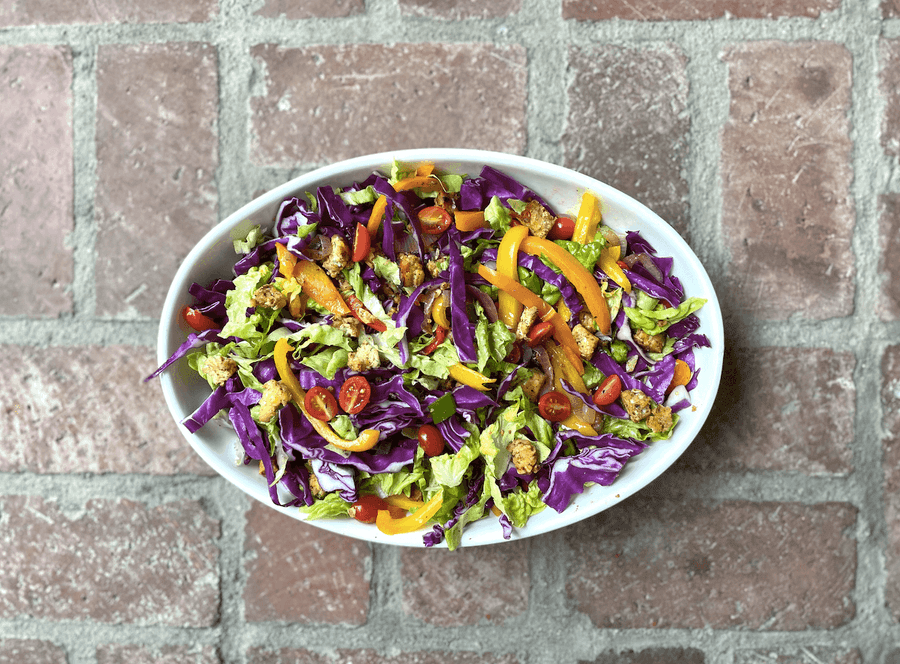 Tempeh is made from fermented soybeans, making it a great source of plant based protein and a rich source of probiotic bacteria. There are countless ways to use tempeh, and in this dish it replaces ground beef. Tempeh takes on flavors exceedingly well, so by using traditional taco seasonings the tempeh adds a savory, 'meaty' quality. This taco bowl includes all of the colorful components of a vegetable rich taco bowl, while still supporting mild ketosis.
Serves 1
Ingredients
2 Tbsp. avocado oil, divided
4 oz. tempeh
¼ tsp cumin
¼ tsp smoked paprika
¼ tsp chipotle pepper powder
¼ tsp onion powder
¼ tsp garlic powder
1 cup red onion, sliced
3 cloves garlic, minced
1 orange bell pepper, sliced
1 yellow bell pepper, sliced
1 cup romaine lettuce, chopped
1 cup red cabbage, shredded
½ cup jicama, cubed
¼ cup green onion, sliced
½ avocado, sliced or ⅓ cup chunky guacamole
2 Tbsp extra virgin olive oil
1 Tbsp apple cider vinegar
½ tsp salt
¼ tsp black pepper
Directions
Crumble the tempeh with your hands into a pan with 1 Tbsp of the avocado oil. Heat on medium high until browned, about 6 minutes.
Combine the spices in a small bowl and mix well, then add the spice mix to the tempeh and saute over medium high heat for another 3 minutes. Set aside.
Place the rest of the avocado oil, onions, and garlic in the pan and saute over medium heat until softened, about 5 minutes.
Add the bell peppers and continue to saute another 5 minutes. Set aside.
Assemble the romaine, red cabbage, jicama, and green onion into a bowl.
Top with tempeh, pepper and onion mix, and avocado.
Whisk the extra virgin olive oil, apple cider vinegar, salt, and pepper and add to bowl.
Mix all ingredients well.