Tangy Veggie Stir Fry
by Amylee Amos PhD, RDN, IFMCP
Recipes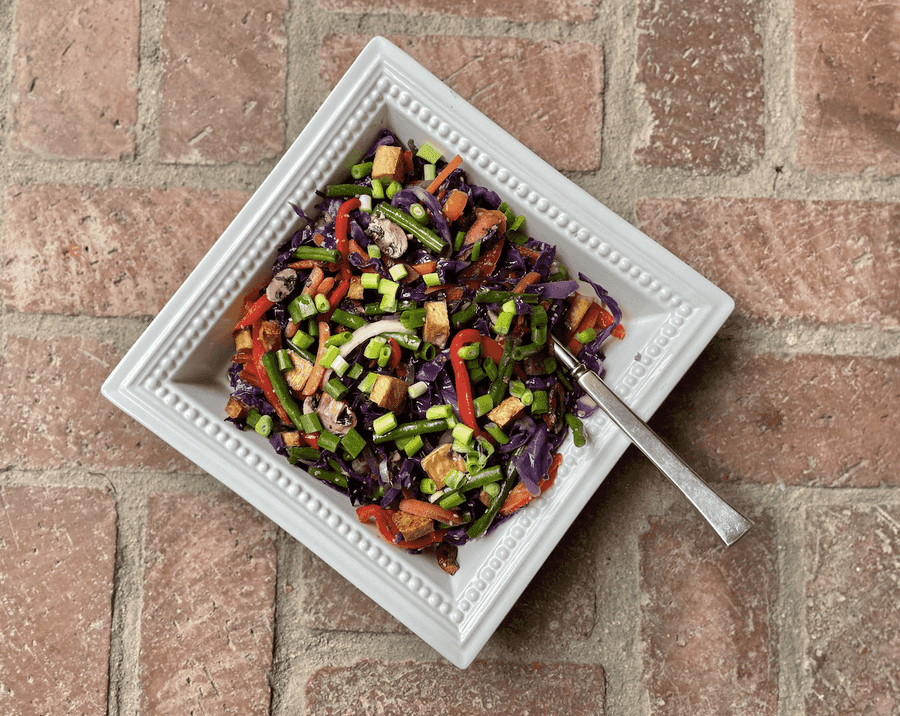 I work with a lot of clients who at times feel like they're stuck in a rut when it comes to the foods they're eating. If you do most of your shopping at a grocery store, it's easy to get into a routine of buying the same vegetables each and every week. Couple that with the need to eat a large amount of non-starchy vegetables on the Bredesen Protocol, and it can be a real challenge if you are not familiar with all of the vegetables, spices, and oils of different food cultures.
I encourage clients to eat foods that they enjoy and that give them the maximum nutritional value. Many times, that means that they need to break out of their standard routine and try out new vegetables and new flavors, which for some means enjoying the experience of expanding their palette, and for others this means a challenge that makes compliance difficult. To see the results that we hope for on this protocol, complete compliance is necessary, and so recipes can be helpful for ideas in terms of expanding variety and increasing spices and herbs.
This Tangy Vegetable stir fry is of Asian influence. It contains at least one vegetable from each color of the rainbow: red bell pepper, orange carrot, yellow bell pepper, green green beans, purple cabbage, white mushrooms, and more. It includes a mix of garlic, ginger, and onions, which provides the immune system with a powerful boost (especially needed at this time of year!). Additionally, the tofu provides an excellent source of plant based protein, and the lemon juice in the sauce allows the body to better absorb the iron from the tofu (1). So try out this stir fry to boost your nutrient intake and break from your normal veggie menu!
This recipe serves 2-3.
Ingredients:
1 tbsp algae oil or avocado oil
6 oz organic, extra firm sprouted tofu
4 cloves garlic, minced
½ a head of purple cabbage, thinly sliced
1 cup carrots, julienne
1 cup green beans, trimmed
1 each red and yellow bell pepper, julienne
1 white onion, thinly sliced
1 cup mushrooms, sliced
2 tablespoons almonds, chopped
½ cup green onion, chopped
Sauce Ingredients:
1 tsp sesame oil
2 tbsp of almond butter
4 tbsp coconut aminos
2 tbsp lemon juice
1 tbsp sriracha
1 tsp smoked paprika
1 tbsp fresh minced ginger
¼ cup sesame seeds
2 tbsp water
Directions:
Preheat oven to 350 degrees F.
Using towels, gently press the tofu to dry as much as possible. Cut into cubes.
Spread tofu out on a parchment lined baking sheet and bake for 30 minutes.
Meanwhile, whisk together all sauce ingredients. Set aside.
Combine garlic, cabbage, carrots, green beans, onion, and bell peppers and saute in oil for 6-8 minutes.
Add the mushrooms and continue to saute, until all vegetables look tender.
Add the almonds and the sauce and stir for a few minutes.
Top with green onion and serve immediately.
References:
Hallberg, L., Brune, M., Rossander, L. (1989). The role of vitamin C in iron absorption. Int J Vitam Nutr Res Suppl, 30: 103-108.