Protocol Approved Plant Pizza
by Amylee Amos PhD, RDN, IFMCP
Recipes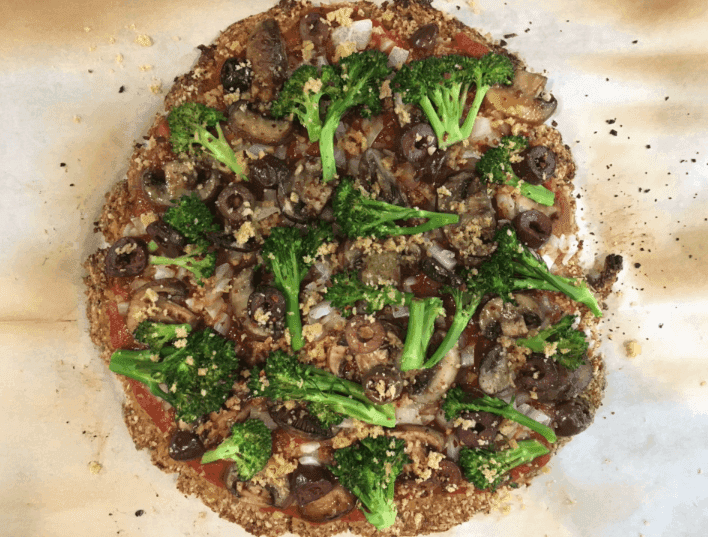 Maintaining a nutrition program, such as that for the Bredesen Protocol, is hardest when faced with your favorite foods. And what food is more a fan favorite than pizza? In fact, I had a nutrition professor in graduate who was convinced that he had been addicted to pizza. His love for pizza was so strong that he reported feeling symptoms of withdrawal when he stopped eating pizza. In my practice, clients often report missing and craving certain foods, which can make compliance challenging at times. I'm always so pleased to offer delicious variations of favorite foods that fit within the parameters of the various nutrition plans, while satisfying the food craving.
These days, gluten free and low carb pizza crust alternatives are everywhere. Most grocery stores carry ready made alternative pizza crusts. While these are certainly more convenient, it's important to read through the ingredients, as many of these products contain additives and texturizers. The great news is that if you have a bit more time on your hands, making a plant based pizza crust is so easy! This recipe features a cauliflower pizza crust- it does not hold as well as regular pizza crust, but it's bursting with flavor and when you eat this pizza, you get all of the natural detoxification benefit from the cauliflower. Beyond the cauliflower benefits, when you eat this pizza, you're increasing your intake of healthy fats like alpha linolenic acid from the ground flaxseed, and increasing your phytonutrient intake from the dried herbs and all of the vegetable toppings. Long story short, if you're gluten free, maintaining mild ketosis, dairy free, plant based, or just looking to eat more vegetables, try this pizza! It complies within the parameters of the Bredesen Protocol and will support the work you are doing to optimize healthspan and longevity.
Crust Ingredients:
1 small head of cauliflower, chopped
2 flax eggs (2 tablespoons ground flaxseed meal and 5 tablespoons of water, mixed)
3 tablespoons nutritional yeast
½ cup almond meal
1 tsp garlic powder
½ tsp dried oregano
½ tsp dried basil
½ tsp salt
½ tsp pepper
¼ tsp Aleppo pepper (or ground red pepper)
Topping Ingredients:
½ cup marinara sauce
¼ cup white onion
½ cup mushrooms, sliced and sautéed
½ cup broccolini, chopped and sautéed
¼ cup kalamata olives, sliced
3 cloves garlic, crushed
¼ tsp red pepper flakes
Directions:
Chop the cauliflower into medium sized florets and lightly steam them.
Once slightly softened, transfer to a blender or food processor and blend until a puree is formed.
Transfer the cauliflower to a cheesecloth or some paper towels and squeeze out the excess water. This step will take a few minutes, because you need to let the cauliflower sit periodically and then squeeze again until the cauliflower feels firm and slightly dry.
Transfer the cauliflower into a bowl, add all other crust ingredients and mix until it is well combined.
Spread the dough about ¼ to ½ inch thick onto a baking sheet lined with parchment paper or onto a pizza stone.
Bake at 400 degrees for 25 minutes. When the crust is done it will appear golden brown.
Once the crust is cooked, add marinara sauce and vegetable toppings.
Broil for about 5 minutes and sprinkle with extra nutritional yeast.
Serve warm.