Pesto Spaghetti Squash
by Amylee Amos MS, RDN, IFMCP
Recipes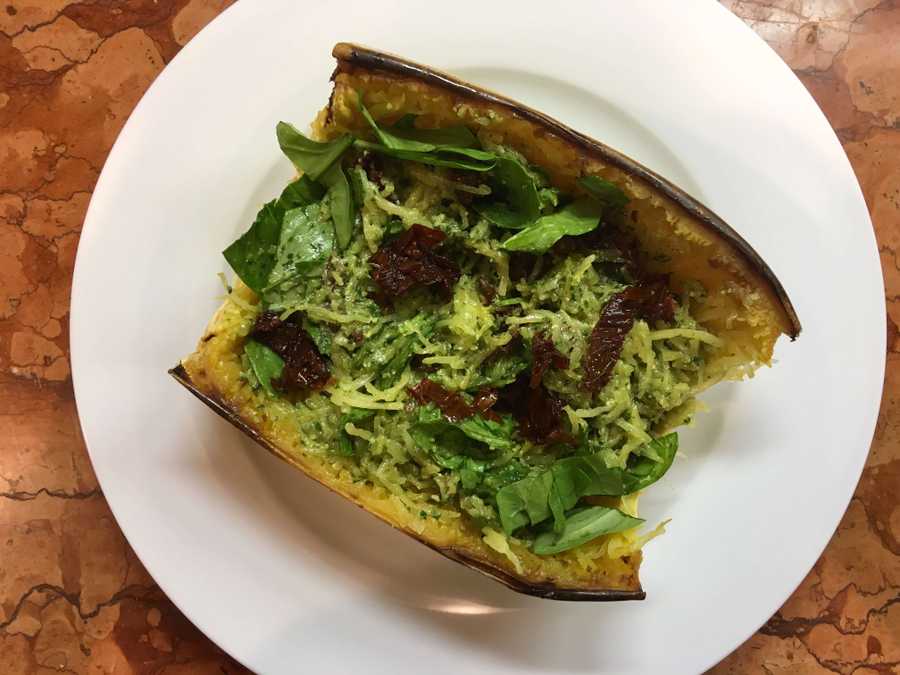 I realize how cliche it sounds for a nutritionist to say, but vegetables are honestly my favorite foods. I seriously love them- their subtle and distinct flavors enhanced when raw, steamed, roasted, sautéed, pureed. I could write a sonnet to vegetables (don't worry, I won't).
However, the vast majority of my clients do not share my passion for the vegetable family. When I meet with clients and we review their recommended intake of 10-15 servings of vegetables per day, most don't start jumping for joy. In fact, some clients open up about the fact they don't even like vegetables, and the few servings per day they've been eating have been forced and unenjoyable. If this rings a bell for you at all, you have got to try this recipe.
The basis of any good nutrition plan is vegetables. That doesn't mean you need to be vegan or vegetarian, but the fact is that a plant based diet, meaning mostly made up of vegetables, is the best nutrition plan for wellness and longevity (1,2,3).
But that doesn't mean that you should spend your life eating foods that you dislike- miserably chomping on celery for hours a day. Eating mostly vegetables can and should be absolutely delicious and enjoyable. You just need to learn how to prepare vegetables in a way that you enjoy- hopefully in many ways that you enjoy.
This pesto spaghetti squash is a winner when it comes to making vegetables delicious. The pesto is full of flavor (and plant powered goodness) on its own, but the addition of the sun dried tomatoes adds a strong kick of tang. It's an easy way to get in a couple servings of veggies without even thinking about it.
This recipe serves 2
Ingredients:
1 spaghetti squash
¼ cup homemade pesto
½ cup sun dried tomatoes
2 cups chopped spinach
Directions:
Cut stem off of spaghetti squash, slice in half lengthwise, and place cut side down on a parchment lined baking sheet.
Roast on 425 F until tender, about one hour.
Allow squash to cool, then with a fork, gently take the seeds out of the spaghetti squash. You'll know you've taken out enough when the flesh that you're scraping with your fork starts to break up like spaghetti.
Continue to unleash these spaghetti squash strands until your entire squash has been broken off the inside of the skin and is in spaghetti like form.
Directly in your squash skin, add your pesto and mix until the pesto is uniformly on the squash.
Add in the sun dried tomatoes and spinach and mix again. If you're doing this right after taking the squash out of the oven, then the spinach will cook down a bit.
Serve immediately directly from your squash skin.
References:
1.) McEvoy, C., Temple, N., & Woodside, J. (2012). Vegetarian diets, low-meat diets and health: A review. Public Health Nutrition, 15(12), 2287-2294.
2.) Orlich, M.J., Singh, P.N., Sabaté, J., et al. (2013). Vegetarian Dietary Patterns and Mortality in Adventist Health Study 2. JAMA Intern Med,173(13):1230–1238.
3.) Rizzo, N.S., Sabaté, J., Jaceldo-Siegl, K., & Fraser, G.E. (2011). Vegetarian Dietary Patterns Are Associated With a Lower Risk of Metabolic Syndrome: The Adventist Health Study 2. Diabetes Care, 34(5), 1225–1227.