Peperonata
by Amylee Amos PhD, RDN, IFMCP
Recipes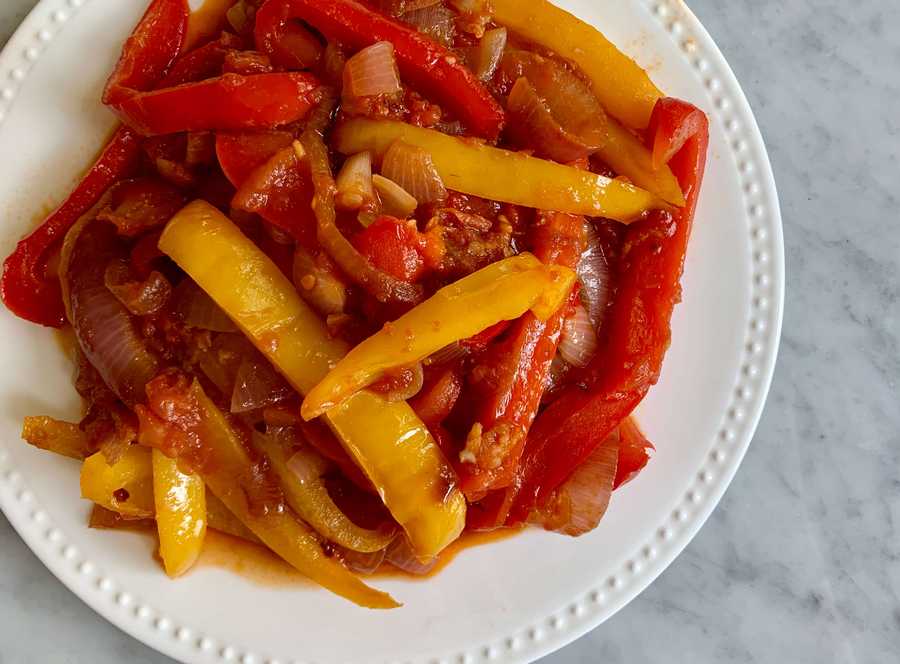 Looking for a naturally sweet and savory vegetable dish? Look no further than Peperonata, Italian stewed peppers. This dish is particularly versatile and is delicious on its own or paired with poached eggs or over grilled fish. It's quick to make and can be served warm or room temperature.
Peperonata is packed with high quality nutrition. Bell peppers are rich in flavonoids, carotenoids, and vitamins that provide healthspan and longevity promoting benefits. Onions and garlic are sulfur rich vegetables that help aid in natural detoxification and the reduction of chronic inflammation. Tomatoes are best known for their high concentration of lycopene, which is a powerful antioxidant. Since the cell wall of plants is broken down when heated, the content of lycopene in tomatoes is actually increased when cooked, especially if cooked in a little bit of extra virgin olive oil, as done in this recipe.
Ingredients:
3 tbsp extra virgin olive oil
4 cloves garlic, minced
3 red onions, thinly sliced
4 orange, red, or yellow bell peppers
2-3 large tomatoes, blended (or about 1 cup tomato puree)
1 ½ tbsp red wine vinegar
1 tsp red pepper flakes
Salt to taste
5-6 basil leaves, julienne
Directions:
Add olive oil to a large pot.
On top of oil, layer the garlic, onions, and bell peppers evenly.
Turn stove onto medium low heat and allow to cook, without stirring, for 10-15 minutes, until the onions become fragrant.
Once fragrant, stir the pepper mixture and and allow to cook about 30 more minutes, stirring occasionally, until the peppers have softened.
Add the blended tomatoes, vinegar, red pepper flakes, and salt and mix well.
Allow to simmer about 10 minutes.
Remove from heat and top with basil.
Serve warm or at room temperature.