Herbed Avocado and Seed Salad
by Amylee Amos MS, RDN, IFMCP
Recipes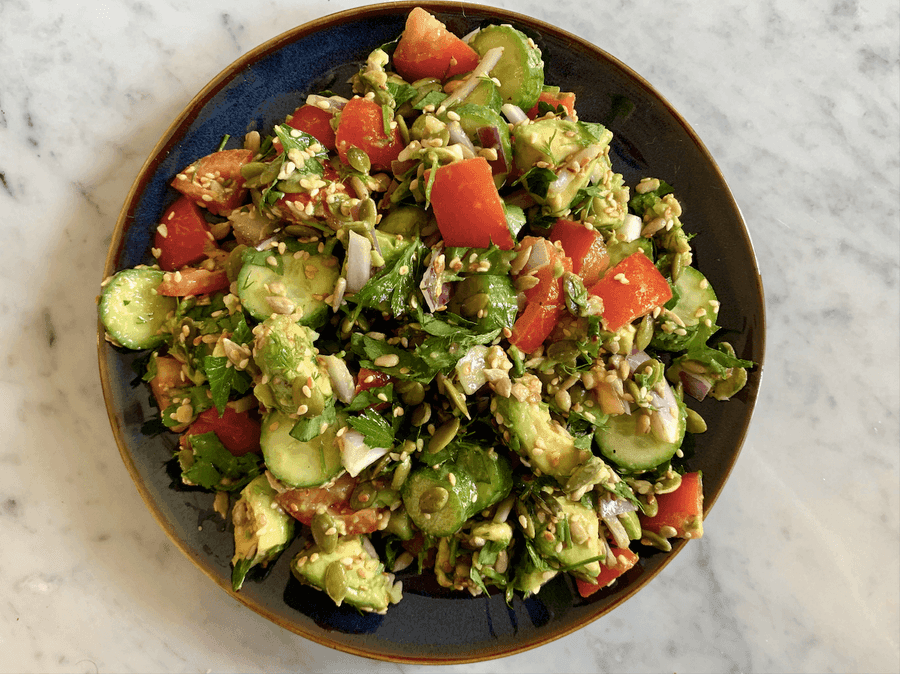 This flavorful salad is loaded with healthy fats. Healthy dietary fat such as those found in extra virgin olive oil, nuts, seeds, and avocados are critical for brain health because they directly influence the fluidity of our cellular membranes. The composition and fluidity of our cell membranes affects the ability of our cells to communicate and is a major factor in our metabolic health (1). These healthy fats will also help you achieve mild ketosis if that is one of your health goals, and maintain metabolic flexibility. Beyond the healthy fats, this salad is exceedingly rich in phytonutrients from the seeds, herbs, spices, and vegetables. Phytonutrients help protect the body from disease through a variety of mechanisms (2). Increasing our intake of phytonutrients through eating a wide variety of colorful plant foods is a simple, yet powerful way to improve our health. 
Enjoy this salad as a fresh, bright, flavorful side dish. Feel free to add additional veggies to meet your preference!
Serves 4-6
Ingredients:
½ cup raw pepitas 
¼ cup sunflower seeds
¼ cup sesame seeds
½ teaspoon chipotle pepper powder
4 large just-ripe avocados, cubed 
⅛ cup dill, chopped
¼ cup parsley, chopped 
1 cup cherry tomatoes, halved
1 cup cucumber, chopped
¼ red onion, diced
Dressing Ingredients:
1 large lemon, juiced 
3 cloves garlic, minced
3 tablespoons extra-virgin olive oil
½ teaspoon fine sea salt
Cracked black pepper to taste
Directions:
Toast the seeds with the chipotle powder in a large skillet over medium low heat, stirring often, until fragrant and browning slightly, about 3 to 5 minutes. 
Set aside to cool.
In a bowl, combine the remaining ingredients and set aside.
To prepare the dressing, whisk together ingredients in a small bowl and set aside.
Add the seeds in with the salad ingredients and toss to combine. 
Drizzle the dressing over the salad and serve. 
---
References: