Flaxseed Flatbreads
by Amylee Amos PhD, RDN, IFMCP
Recipes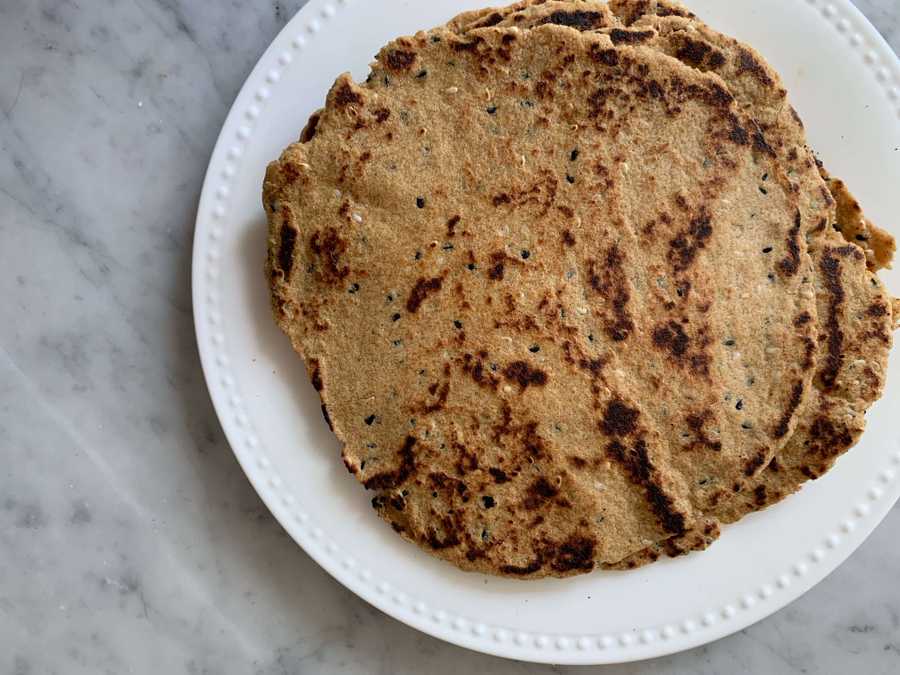 Flaxseed is exceptionally rich in alpha-linolenic acid (ALA), an omega 3 fatty acid that cannot be synthesized in the body. Other omega 3 fatty acids that we depend on for optimal health such as EPA and DHA can be created from ALA if we have enough ALA in our diet. High levels of ALA have been associated with lower risk of cardiovascular disease and other chronic illnesses. Flaxseed is the richest source of ALA, making it an exceedingly nutritious addition to the diet (1). The caveat is that when eaten whole, we absorb very little of the ALA from flaxseeds, thus, flaxseed is most beneficial when consumed ground.
These flaxseed flatbreads are the perfect alternative to traditional flatbreads, tortillas, or wraps. They are naturally grain free and are full of brain and heart healthy fats. While you can make the flatbreads without the sesame and black seeds, including these gives an added nutrient rich boost and enhances the flavor profile. Top with avocado and sauerkraut for a delicious snack!
Makes 6 flatbreads
Ingredients:
1 cup ground flaxseed
2 tbsp sesame seeds
1 tbsp black seeds
1 tsp salt
½ cup water
Directions:
Add flax, seeds, and salt to a bowl and stir to combine.
Heat the water in a separate bowl, then add the warm water to the flaxseed mixture.
Let sit for 2-3 minutes to thicken into a dough.
Meanwhile, heat a cast iron skillet on medium heat.
Form the dough into balls and press between two pieces of parchment paper. Until they resemble thin flatbreads or tortillas.
One by one, place the flatbreads on the skillet and cook for about 1-2 minutes or until golden brown, then flip and cook on the other side for an additional 2 minutes or until golden brown.
---
References:
Dietitians of Canada (2013). Food Sources of Omega 3 Fats.