Extra "Basil-y" Pesto
by Amylee Amos PhD, RDN, IFMCP
Recipes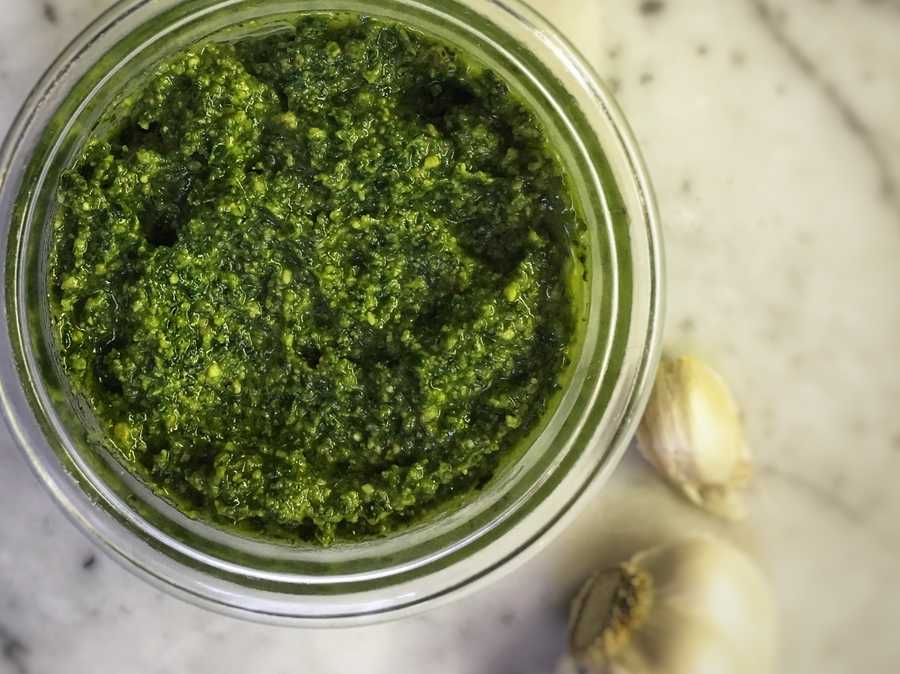 Pesto is one of my favorite foods. It's delicious when tossed with spaghetti squash, lentil pasta, or even over roasted vegetables. It's also a nutrition powerhouse, packed with phytonutrients.
Unlike most pesto recipes, this one is made without any cheese, making it great for a dairy free lifestyle. I promise, you will not miss the cheese in this- the pesto is so packed full of flavor (that's why it's extra basil-y)! It also includes only high quality, nutrient dense ingredients. Most store bought pestos use canola or other vegetable oils, rather than the more expensive (and better for you) extra virgin olive oil. Make sure you're using a high quality, organic extra virgin olive oil for this recipe. Not only does it make a huge difference with the flavor profile- it works synergistically with the other ingredients to bring a natural pharmacy to your plate!
It's the phytochemicals in the basil, garlic, and olive oil that make pesto so beneficial. These tiny phytochemicals have been shown in studies to inhibit one of the body's major inflammatory pathways (1). Pathologic inflammation is associated with all of the chronic diseases of aging, including Alzheimer's disease, so while you're enjoying this pesto, know that you're giving your cells a powerful anti-inflammatory boost! In general, diets high in aromatic herbs (like basil, rosemary, cilantro, and parsley) are common in the areas of the world with the greatest longevity and healthspan.
You can make this pesto in advance and keep it on hand for at least a week. Keep it in an airtight container in the refrigerator. If you're using the pesto directly from the refrigerator and are putting it in or on something hot, let it come to room temperature first. Feel free to use it liberally- it's full of healthy fats to fuel your brain and all those phytonutrients to keep your cells strong.
Ingredients:
¼ cup raw walnuts
¼ cup pine nuts
4 Tbsp. garlic (about 10 cloves), chopped
4 cups fresh basil leaves, packed
1 tsp sea salt
Black pepper to taste
¾ cup extra virgin olive oil
Directions:
Wash the basil and dry it thoroughly.
Place the walnuts, pine nuts, and garlic into a food processor and process for 30 seconds.
Add the basil leaves, salt, and pepper and continue to process for 20 seconds.
Pour in olive oil slowly through the mouth of the food processor and continue to process until finely pureed.
Serve immediately or store for later use.
References
Aggarwal, B. B. and Shishodia, S. Suppression of the nuclear factor-kappaB activation pathway by spice-derived phytochemicals: reasoning for seasoning. Ann.N.Y Acad.Sci. 2004;1030:434-441.