Colorful Roasted Vegetables
by Amylee Amos MS, RDN, IFMCP
Recipes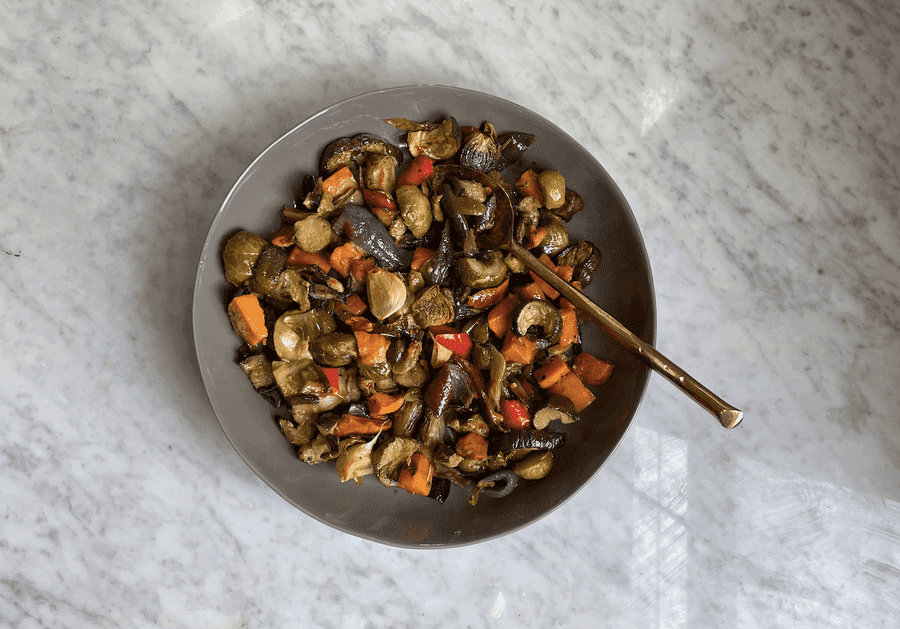 It's hard to go wrong with a big plate of these colorful roasted vegetables. They are bursting with flavor and while often served as a side dish, can easily be the star of the plate. In general, most of us don't eat as many vegetables as we need. Our bodies depend on the fiber, vitamins, minerals, and phytonutrients that are packaged inside plant foods such as vegetables. Adding this dish into your menu rotation is a great and flavorful way to meet your daily vegetable intake goal. 
Have you heard the expression, 'you eat with your eyes first'? Filling your plate with colorful foods stimulates appetite and is aesthetically pleasing. This dish provides vegetables from every color of the rainbow. It's an excellent blend of sulfur rich vegetables that help ramp up the body's natural detox systems. The aromatic herbs add potent anti-inflammatory and antioxidative benefits. Feel free to add or swap out the herbs and spices to change the flavor profile to your liking. 
Ingredients:
1 cup zucchini, sliced
1 cup brussels sprouts, quartered
1 cup broccolini, chopped
1 cup red and yellow bell pepper, chopped
1 cup sweet potato, diced
1 cup  cremini mushrooms, halved 
1 cup onion, chopped
1 cup eggplant, chopped
1 cup fennel, chopped
6-7 cloves garlic
2 tablespoons avocado oil
Salt and pepper to taste
1 tsp dried basil
1 tsp dried oregano
1 tsp dried parsley
1 tsp dried thyme
1 tsp rosemary
Directions:
Line a baking sheet with parchment paper and add all of your veggies.
Drizzle with the avocado oil, salt, pepper, and herbs.
Toss well.
Roast the vegetables on 425 degrees for 15 minutes then turn them and cook for another 10-15 minutes.
Serve warm or at room temperature.