Cheers to Brain Health: A Drink to Improve Memory
by Amylee Amos MS, RDN, IFMCP
Recipes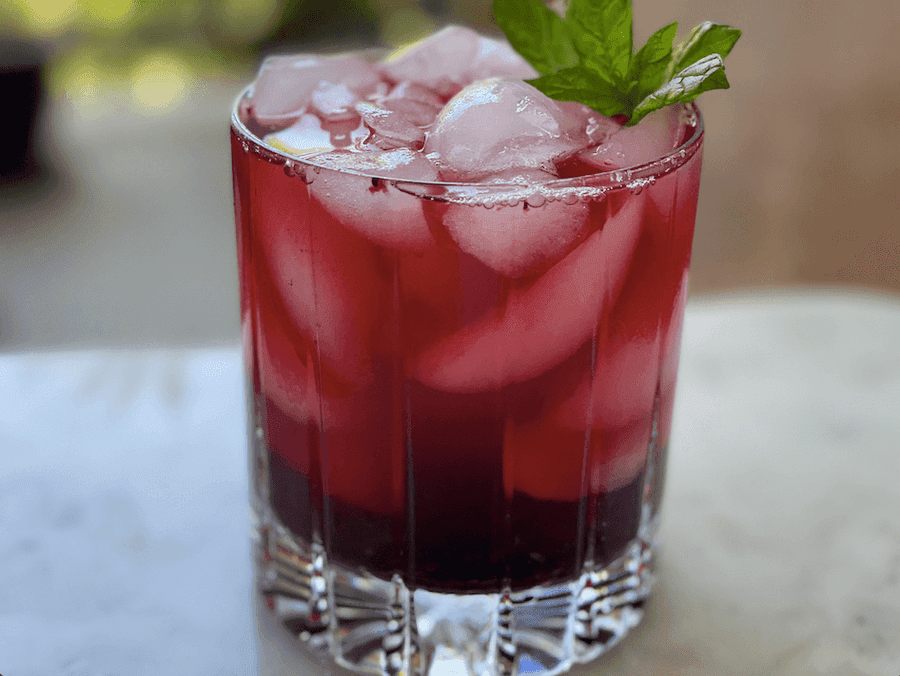 Sip your way towards better brain health with this gorgeous drink. The ingredients used in this drink are all brain health power-houses. Each of them has been studied for their memory improving benefits, as well as their ability to prevent neurodegeneration and improve various areas of cognitive health. 
This drink is a delicious way to improve your brain health all year round. While we're featuring the cognitive benefits here, each of these ingredients has other impressive metabolic, antioxidative, anti-inflammatory, and healthspan promoting effects. Enjoy this drink over ice as pictured, or hot, depending on your preference. Additionally, feel free to add other nutritious ingredients as needed to suit your taste. Some that might add a tasty twist include rosemary, ginger, or lemon!
If you need a reason beyond the sheer beauty of this drink to give it a try, here are just a few of the impressive brain health benefits of this drink.
Hibiscus:
Hibiscus flowers provide the deep crimson color to this beverage. Beyond its aesthetic appeal, hibiscus has potent neuroprotective benefits, including the ability to lower neuroinflammation. Inflammation is a primary driver of Alzheimer's disease, making hibiscus an effective and nourishing intervention for those looking to promote brain health. Additionally, hibiscus has an anti-diabetic effect which can help protect the brain because glycemic control issues and insulin resistance contribute to Alzheimer's pathology, specifically in those with type 1.5, glycotoxic Alzheimer's (1). Beyond its specific brain health benefits, hibiscus can help lower blood pressure and optimize lipid levels. 
Green Tea:
Green tea is often touted for its incredible health benefits. In terms of brain health, green tea has been shown to improve memory and attention, as well as activate working memory, as seen in functional MRI. Additionally, green tea helps reduce anxiety levels and improve psychological symptoms (2). While normally the benefits of green tea are attributed to its high content of the phytonutrient EGCG or l-theanine, it appears that the benefits of green tea for brain health are due to the synergistic effect of multiple compounds in green tea, rather than any of them working in isolation (2). This suggests that while supplements of these compounds may result in some benefit, the full and true benefit comes from actually drinking green tea. 
Sage:
For many Americans, the smell of sage brings memories of Thanksgiving dinner and other savory dishes. However, in much of the world, sage is brewed along with black tea and other herbs for an invigorating tonic. Sage, like all herbs, has many health benefits. From a brain health standpoint, research shows that sage may protect the brain from neurotoxicity associated with accumulation of beta amyloid plaques. Additionally, sage may lower inflammatory biomarkers of inflammation including TNF-alpha and Interleukin-6 (3). This is especially important for those suffering from or at risk of subtype 1, inflammatory Alzheimer's disease. 
Cinnamon:
Ceylon cinnamon is recommended in this recipe because it contains lower levels of coumarin than other types of cinnamon, which can contribute to liver toxicity. Ceylon cinnamon has a well established anti-diabetic effect, meaning that it can help regulate blood glucose levels. Additionally, cinnamon is a good source of the very powerful antioxidant and micronutrient manganese, which is critical for the health of the brain (4). Studies of how cinnamon may improve memory and delay cognitive decline are promising, though most are either small human studies or in the mouse model. 
Mint:
You've likely experienced the benefits of drinking mint tea or even smelling mint essential oils on your mood and alertness. Mint has an invigorating and a fresh, vibrant taste. Studies involving mint and its impact on brain health often involve mint essential oil. Simply smelling mint can enhance memory (5), and while you can certainly diffuse peppermint oil, the aroma of the mint oils comes out beautifully in this beverage. 
Blueberries:
Blueberries have been very well studied for their cognitive benefits. In this recipe, we feature wild blueberries. Compared to regular blueberries, wild blueberries have a stronger flavor, and more importantly have 33% more anthocyanins (6). Anthocyanins are a class of phytonutrient that have been associated with neuroprotective effects (7).  Research surrounding blueberries and their impact on brain health continue to be published. One study in 16,000 women over 70 years old found that those who ate one or more servings of blueberries, or two or more servings of strawberries, per week performed better on memory tests over four years and appeared to delay their overall cognitive aging by as much as 2.5 years (8). In another study, a group of older adults with age-related memory decline who drank wild blueberry juice in addition to their normal diet showed improved memory function after 12 weeks (9).
Ingredients: 
½ cup brewed hibiscus
1 cup brewed green tea 
¼ tsp sage
¼ tsp Ceylon cinnamon
8 fresh mint leaves (plus more for garnish)
⅛ cup muddled wild blueberries (fresh or thawed from frozen)
Directions:
Combine hibiscus, green tea, sage, Ceylon cinnamon, and mint leaves into a small saucepan. 
Simmer on medium low heat for about 10-15 minutes. 
Place muddled or smashed blueberries in glass. Top glass with ice. 
Use a strainer to add the tea mixture into a glass. 
Add additional ice as needed. 
Garnish with a sprig of mint and enjoy!
Notes:
*Alternatively, you can combine 2 tsp of dried hibiscus flowers, 1 tsp of loose green tea, sage, cinnamon, and mint leaves into a kettle with 1 ½ to 2 cups of filtered water. Prepare beverage by bringing to a light boil, then removing from heat for 10 minutes to brew. Strain and add to glass along with the blueberries. 
---
References: 
Amylee Amos & Bashar Khiatah (2021) Mechanisms of Action of Nutritionally Rich Hibiscus sabdariffa's Therapeutic Uses in Major Common Chronic Diseases: A Literature Review, Journal of the American College of Nutrition, DOI: 10.1080/07315724.2020.1848662
Mancini E, Beglinger C, Drewe J, Zanchi D, Lang UE, Borgwardt S. Green tea effects on cognition, mood and human brain function: A systematic review. Phytomedicine. 2017 Oct 15;34:26-37. doi: 10.1016/j.phymed.2017.07.008. Epub 2017 Jul 27. PMID: 28899506.
Lopresti A. L. (2017). Salvia (Sage): A Review of its Potential Cognitive-Enhancing and Protective Effects.Drugs in R&D,17(1), 53–64. https://doi.org/10.1007/s40268-016-0157-5
Coassin M, Ursini F, Bindoli A. Antioxidant effect of manganese. Arch Biochem Biophys. 1992 Dec;299(2):330-3. doi: 10.1016/0003-9861(92)90282-2. PMID: 1444472.
Moss M, Hewitt S, Moss L, Wesnes K. Modulation of cognitive performance and mood by aromas of peppermint and ylang-ylang. Int J Neurosci. 2008 Jan;118(1):59-77. doi: 10.1080/00207450601042094. PMID: 18041606.
WIld Blueberries of North America (2021). Are your blueberries wild? Retrieved from https://www.wildblueberries.com/why-wild/
Subash, S., Essa, M.M., Al-Adawi, S., Memom, M.A., Manivasagam, T., & Akbar, M. (2014). Neuroprotective effects of berry fruits on neurodegenerative diseases.Neural Regeneration Research 9(16), 1557 – 1566.
Devore, E.E., Kang, J.H., Breteler, M.M.B., & Grodstein, F. (2012). Dietary intakes of berries and flavonoids in relation to cognitive decline.Annals of Neurology 72,135-143.
Krikorian, R., Shidler, M.D., Nash, T.A., Kalt, W., Vinqvist-Tymchuk, M.R., Shukitt-Hale, B., & Joseph, J.A. (2010). Blueberry supplementation improves memory in older adults.Journal of Agricultural and Food Chemistry 58,3996-4000. 10.1021/jf9029332