Can Saffron Help Treat Alzheimer's Disease?
by Amylee Amos PhD, RDN, IFMCP
Nutrition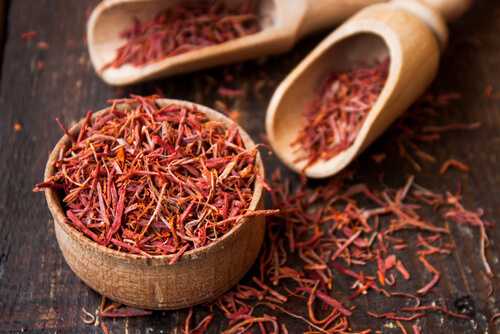 When most people think of saffron, they think of rice. This colorful and curious wonder herb is often used to flavor Spanish paellas and Persian jeweled rice. I love both of these dishes, but have always been surprised by the exceedingly high price point of saffron. Is it worth the hefty price tag? It turns out that, yes, it's absolutely worth the investment, especially if you have Alzheimer's disease.
What is Saffron?
Saffron is a crimson colored spice derived from the flower, Crocus sativus. It is often sold in short, dry threads. Saffron is widely cultivated in Iran, as well as India and parts of Greece (1). It is one of the most expensive spices by weight, though price varies by grade and age of the spice. The use of saffron goes back millennia. Traditionally it has been used as a dyeing agent for foods and textiles, imparting a yellow hue, as well as in perfumes for added fragrance, and most notably, for medicinal purposes.
Medicinal Uses of Saffron
The ancient medicinal uses of saffron are numerous. Saffron has been studied both in treatment and prevention of a variety of diseases and disorders. Saffron is rich in antioxidants such as zeaxanthin, lycopene, crocin, and other carotenoids that fight free radical damage and oxidative stress in the body. It has antispasmodic properties, meaning that it has been shown to reduce muscle spasms. It has anticancer and cardioprotective properties, making it a useful addition to disease prevention nutrition plans (2). Saffron has also been studied for its benefit in a variety of gastrointestinal disorders including stomach ache as well as for insomnia (3).
Saffron and Alzheimer's Disease
Perhaps the most notable research of saffron surrounds its profound impact on Alzheimer's disease. One of the hallmarks of Alzheimer's disease is the accumulation of beta amyloid plaques in the brain. The accepted mechanism of action involves crocin, one of the carotenoids in saffron, which has been found in vitro to both inhibit the formation of these plaques and disrupt the aggregation of existing plaques (4). In a randomized double blind placebo controlled study, Alzheimer's patients that were given 30mg of saffron per day had improved cognitive function after 16 weeks compared to placebo (5).  The results of studies such as these were so compelling that the same group of researchers put saffron head to head with one of the leading pharmaceutical treatments for Alzheimer's disease: donepezil, also known as Aricept. Participants of the study either received a 10mg dose of donepezil or 30mg of saffron per day. After 22 weeks, the saffron and donepezil had a similar effect on Alzheimer's symptoms. Even more promising, the saffron group had a reduction in adverse effects, particularly, the saffron group had significantly less vomiting (6).
Next saffron was compared to the other primary pharmaceutical intervention for Alzheimer's disease: memantine, also known as Namenda. Like donepezil, memantine is commonly prescribed for the treatment of Alzheimer's disease, but it comes with a long list of potential side effects. Some of these side effects include sleepiness, drowsiness, weight gain, confusion, hypertension, and nervous system disorders (7).  Results of a double blind randomized trial over one year showed that saffron had a similar effect to memantine in moderate to severe Alzheimer's disease (8). All in all, in the these studies saffron was just as effective as memantine and donepezil!
What's the Takeaway?
The research on saffron and Alzheimer's disease is absolutely incredible. The fact that a spice can be as effective as the two leading Alzheimer's pharmaceuticals is staggering. Certainly more and larger studies are needed, but the results presented here are so promising. The gold standard pharmaceuticals for Alzheimer's disease are often accompanied by side effects, which in turn require more pharmaceuticals to deal with the symptoms of the side effects. This polypharmacy creates a never ending, vicious cycle. We need more research to go into the natural pharmacy, plants! Food really is medicine, and saffron is a perfect example.
Obviously, preventing or reversing Alzheimer's disease is more complex than any one drug or spice. Treating this disease still requires a comprehensive, whole body systems approach, such as the Bredesen Protocol. So the takeaway here is, if you have Alzheimer's disease and you're on the Bredesen Protocol, don't jump into taking a pharmaceutical, but also don't disregard your doctor's advice. If your doctor thinks that you need one of these medications, ask them about your alternatives. Discuss research such as this and encourage them to work with you so that you end up with a treatment plan that meets your needs.
References:
Christodoulou, E.,  Kadoglou, N.P., Kostomitsopoulos, N., & Valsami, G. (2015). Saffron: a natural product with potential pharmaceutical applications. Journal of Pharmacy and Pharmacology, 67(12): 1634-1649.
Bukvicki, D., Gottardi, D., Prasad, S., Novakovic, M., Marin, P., & Tyagi, A.K. (2019). The healing effects of spices in chronic diseases. Current Medicinal Chemistry, 26: 1-18.
Hamedi, A., Zarshenas, M.M., Sohrabpour, M. & Zargaran, A. (2013). Herbal medicinal oils in traditional Persian medicine. Pharmaceutical Biology, 51(9): 1208-1218,
Ghahghaei, A., Bathaie, S.Z., Kheirkhah, H., & Bahraminejad, E. (2013). The protective effect of crocin on the amyloid fibril formation of Aβ42 peptide in vitro. Cell Mol Biol Lett, 18(3): 328-339.
Akhondzadeh, S., Sabet, M.S., Harirchian, M.H., Togha, M., Cheraghmakani, H., Razeghi, S., Hejazi, S., Yousefi, M.H., Alimardani, R., Jamshidi, A., Zare, F., & Moradi, A. (2010). Saffron in the treatment of patients with mild to moderate Alzheimer's disease: a 16-week, randomized and placebo-controlled trial. J Clin Pharm Ther, 35(5):581-8.
Akhondzadeh, S., Sabet, M.S., Harirchian, M.H., Togha, M., Cheraghmakani, H., Razeghi, S., Hejazi, S., Yousefi, M.H., Alimardani, R., Jamshidi, A. Rezazadeh, S.A., Yousefi, A., Zare, F., Moradi, A., & Vossoughi, A. A 22-week, multicenter, randomized, double-blind controlled trial of Crocus sativus in the treatment of mild-to-moderate Alzheimer's disease. Psychopharmacology, 207(4):637-643.
Yang,  Z., Zhou, X., &  Zhang, Q. (2013). Effectiveness and safety of memantine treatment for Alzheimer's disease. J Alzheimer's Disease, 36(3): 445-458.
Farokhnia, M., Sabet, M.S., Iranpour, N., Gougol, A., Yekehtaz, H., Alimardani, R., Farsad, F., Kamalipour, M., & Akhondzadeh, S. (2014). Comparing the efficacy and safety of Crocus sativus L/ with memantine in patients with moderate to severe Alzheimer's disease: a double-blind randomized clinical trial. Hum Psychopharmacol, 29(4): 351-359.