Can HEPA Filters Capture the Coronavirus?
by Amylee Amos PhD, RDN, IFMCP
Lifestyle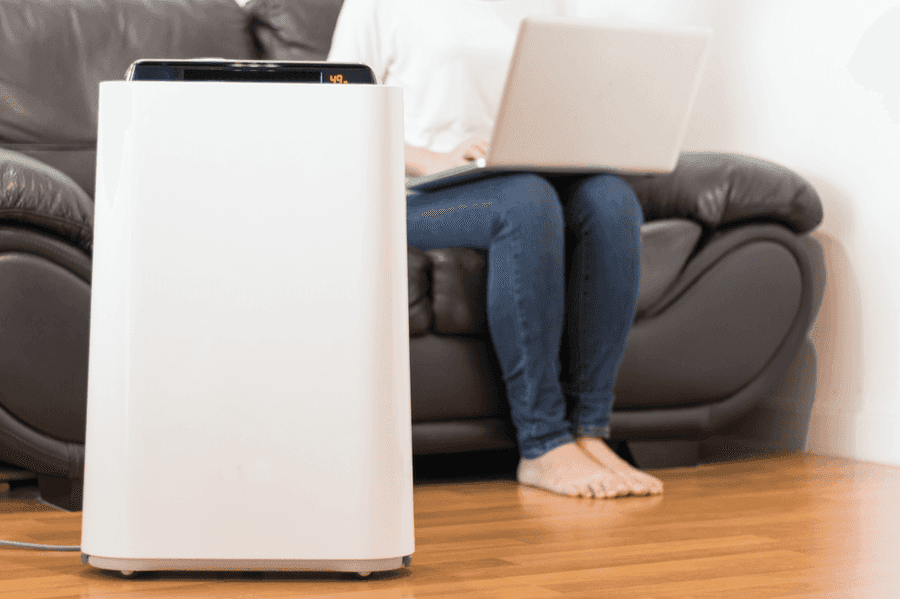 After over a year of quarantining and avoiding social gatherings of any kind, much of the United States has begun to see low enough COVID positivity rates and high enough vaccination rates to begin to take the first steps toward getting back to some form of normalcy. The CDC has updated their recommendations for safely gathering in social settings, now expressing that it is safe for vaccinated persons to gather indoors as well as outdoors when in small groups (1). Much of the nation is breathing a collective sigh of relief that birthday parties, bridal showers, graduation get togethers, and other social gatherings can now safely take place; however, now more than ever it's important that we not let our guard down to ensure that we can avoid another wave of cases. This brings up a great question, other than hand washing, mask wearing, and social distancing when appropriate, is there anything that we can do to reduce the spread of COVID while still resuming more usual activities? In particular, can running a HEPA filter at home during a social gathering capture the coronavirus, which causes COVID-19, thus increasing the safety of such gatherings? We looked into the research to find out. 
Can HEPA filters capture the coronavirus?
Yes, HEPA filters can capture the coronavirus. We have known for some time now that COVID spreads when droplets that contain the virus travel from an infected person through the air and are either inhaled by another person or when they land on the eyes, nose, or mouth of another person (2). If we are able to get these droplets and the coronavirus out of the air, we would effectively reduce the ability of the virus to spread from person to person. The coronavirus  is approximately 125 nanometers in diameter, or 0.125 micron (3). HEPA filters are able to capture particles as small as 0.01 micron (4).  Thus, HEPA filters can effectively capture the coronavirus and stop the virus from circulating through the air in your living space. 
How to use HEPA filters to reduce the spread of COVID
A HEPA filter is only effective if it's turned on. Running your HEPA filter throughout the day is a good idea even in non pandemic times, as it helps purify the air you breathe. However, they can be especially useful now as we begin to gather with people indoors. If you are having a small gathering, even of all vaccinated individuals, it's a good idea to run your HEPA filter as an extra precaution to prevent the spread of COVID. If you don't have a HEPA filter, use this as an incentive to go out and purchase one. Even a free standing, one-room HEPA filter is a great investment in your health. 
The Amos Institute recommendation
At the Amos Institute, we recommend the use of HEPA filters in the home because their ability to clean up the air in the home reduces the risk of developing Alzheimer's disease. As HEPA filters capture small particles that could otherwise enter the brain and contribute to the pathogenesis of dementia, their use is a small step we can take to reduce an environmental risk factor of Alzheimer's disease. The fact that HEPA filters also help us reduce our risk of COVID is simply another great reason to run your HEPA filter. If you are looking for other ways to reduce your risk of Alzheimer's disease or cognitive decline, the Cognitive Health Program at the Amos Institute contains 26 lessons that take you through all you need to know to reduce your risk and optimize your brain health. Sign up today and start creating the best possible lifestyle to support your cognition. 
---
References:
CDC (2021, April). Choosing safer activities. https://www.cdc.gov/coronavirus/2019-ncov/daily-life-coping/participate-in-activities.html
CDC (2021, May). How COVID-19 spreads. https://www.cdc.gov/coronavirus/2019-ncov/prevent-getting-sick/how-covid-spreads.html?CDC_AA_refVal=https%3A%2F%2Fwww.cdc.gov%2Fcoronavirus%2F2019-ncov%2Fprepare%2Ftransmission.html
Fehr, A. R., & Perlman, S. (2015). Coronaviruses: an overview of their replication and pathogenesis. Methods in molecular biology (Clifton, N.J.), 1282, 1–23. https://doi.org/10.1007/978-1-4939-2438-7_1
Perry, J.L., Agui, J.H., & Vijayakimar, R. (2016). Submicron and Nanoparticulate Matter Removal by HEPA-Rated Media Filters and Packed Beds of Granular Materials. NASA. https://ntrs.nasa.gov/citations/20170005166