Boosting Omega 3 Fats with SMASH Fish
by Lauren Gold MPH, RDN
Recipes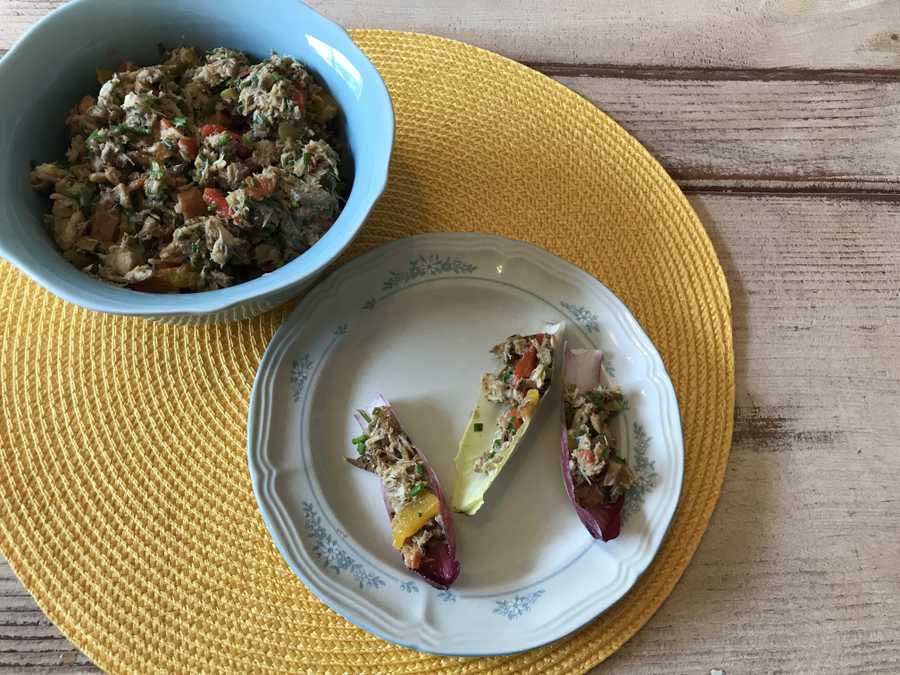 While some may say that it's bad manners to play with your food, we are giving you permission to "SMASH" it. The term "SMASH" refers to the fish we encourage you to eat: salmon, mackerel, anchovies, sardines, and herring. Why these fish in particular? Well, these fish have tremendous benefit, particularly their omega 3 fatty acid composition, but they are also low in organic mercury. SMASH fish are all small fish because the larger the fish and the longer its lifespan, the higher its mercury content. In other words, a shark's terrifying jaws are not the only reason to avoid this big fish!
Mercury poisoning has been linked to symptoms such as memory loss, insomnia, and irritability (1). Numerous studies have shown that patients with Alzheimer's disease have higher contents of mercury in the brain (2).   So if you're worried about brain health and preventing Alzheimer's disease, it's important to avoid high mercury fish.
However, low mercury fish like SMASH fish don't just help you avoid the risk of high mercury, but they provide tremendous benefit. Most notably, SMASH fish are especially rich in Docosahexaenoic Acid (DHA). DHA, an omega 3 fatty acid,  is required for proper brain functioning. Omega 3 fats are a major component of cell membranes, so nourishing the body with omega 3 fats keeps cellular communication functioning properly. Additionally, cognitive decline from Alzheimer's Disease is linked to decreases in DHA (3).
Beyond omega 3 fats, another benefit of eating SMASH fish is healing the gut. A healthy gut is correlated with increased products of the microbiome, which is one of many interventions that can contribute to the reversal of cognitive decline. Some benefits of an improved microbiome are increased nutrient absorption and a reduction in inflammation. One study of a sardine-enriched diet showed results of increased omega-3 index and improvements in gut microbiota compared to those who did not consume a sardine-rich diet (4).
Long story short, start adding some SMASH fish into your diet- the benefits are endless! If you're not sure how to get started, try this Smokey Mackerel Dip! This flavorful, nutritious dip is easy to make and is great paired with endive spears or fresh cucumber slices as a dipping vessel.
So go ahead, have a little fun, and "SMASH" it at the dinner table, just be sure all of your other table manners don't go totally down the drain!
Smokey Mackerel Dip
Ingredients:
6 oz. Smoked Wild Caught Mackerel
¾ cup roasted bell peppers, roughly chopped
½ cup Anchovy Olive Tapenade (or other Olive Tapenade)
¾ tablespoon chives, diced
1/2 teaspoon black pepper
Endive spears for dipping
Instructions:
Peel off and discard the dark skin off the mackerel.
Rough chop the fish and place in a large mixing bowl.
Add peppers, chives, tapenade, and pepper to the bowl.
Mix well.
Serve on top of endive spears.
References:
Bredesen, Dale E., MD. (2017). The End of Alzheimer's. New York, NY: Penguin Random House.
Mutter, J., J. Naumann, R. Schneider. Mercury and Alzheimer's disease. [Abstract]. Fortschr Neurol Psychiatr. 75 (2007): 528-538. PubMed. Web. 11 Aug. 2018.
Horrocks, LA., Yeo YK. Health benefits of docosahexaenoic acid. [Abstract]. Pharmacol Res. 40 (1999): 211-25. PubMed. Web. 9 Aug. 2018
Balfegó, M., S. Canivell, FA Hanzu. Effects of sardine-enriched diet on metabolic control, inflammation and gut microbiota in drug-naïve patients with type 2 diabetes: a pilot randomized trial.