Authentic Baba Ghanoush
by Amylee Amos PhD, RDN, IFMCP
Recipes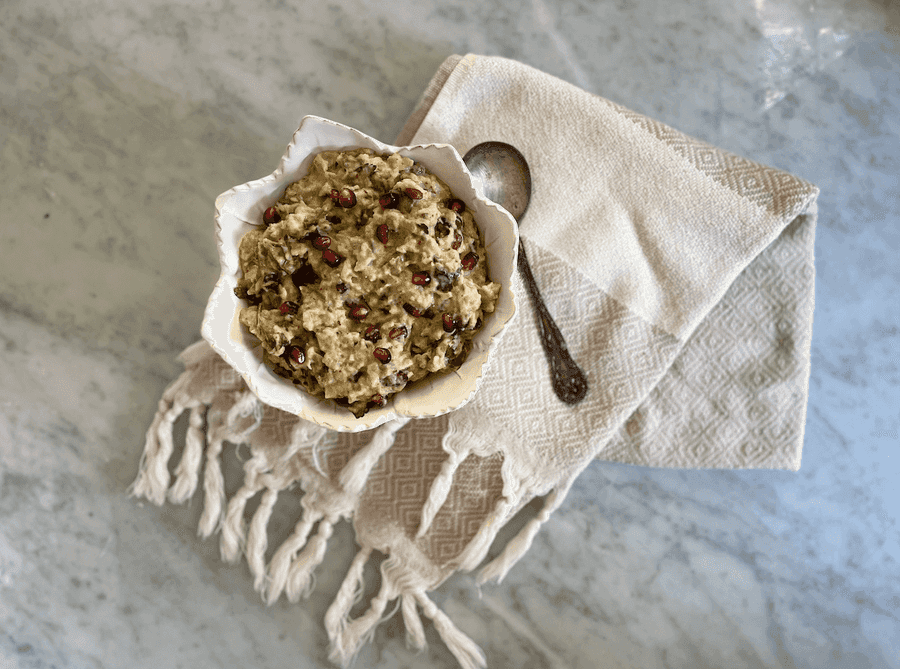 People all over the world enjoy Mediterranean cuisine. It's no surprise given the complexity and vibrancy of flavors from the many spices, herbs, vegetables, fruits, and legumes commonly used in dishes. Perhaps most savored is the beautiful balance of sour, sweet, and savory in Mediterranean food. Baba Ghanoush perfectly represents this unique combination of flavors, making it the perfect addition to a meal or snack.
In the United States, a blended eggplant based dish traditionally known as Mutabal is often passed off as Baba Ghanoush, as they both feature roasted or grilled eggplant, tahini, and lemon. However true Baba Ghanoush takes the flavor and texture of the dish one step further with slightly bitter raw green bell pepper and sweet, juicy pomegranate arils.
From a health standpoint, Baba Ghanoush is a powerhouse of good nutrition. Eggplant and pomegranate are rich in polyphenols, phytonutrients that act as potent antioxidants in the body. Tahini provides a big dose of brain healthy fats, which can help assist those trying to maintain mild ketosis to optimize their cognitive health. Overall this dish is packed with micronutrients necessary for brain function- not to mention absolutely delicious!
Ingredients:
2 eggplants
3 tbsp tahini
2 tbsp extra virgin olive oil
2 tbsp lemon juice
1 tsp cumin
¼ tsp salt
½ cup green bell pepper, diced
¼ cup parsley, chopped
¼ cup pomegranate arils
Directions:
Wash eggplant and puncture skin several times.
Grill eggplant on very high heat for 30-40 minutes, rotating occasionally until the skin of the eggplant appears charred.
Allow the eggplant to cool, then peel and discard the charred skin and the stem, leaving just the eggplant pulp.
Place the eggplant pulp in a bowl and add in all other ingredients, saving a few pomegranate arils for garnishing.
Mix the ingredients well using a spoon until fully combined.
Top with leftover pomegranate arils and serve at room temperature.