Spiced Baked Apples
by Amylee Amos PhD, RDN, IFMCP
Recipes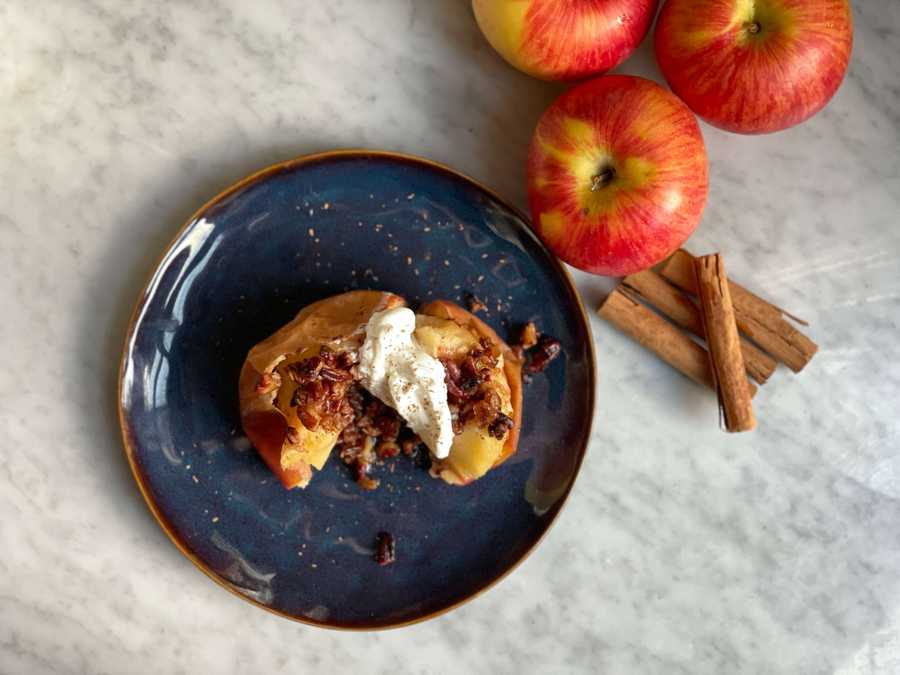 Apple picking season is upon us, and what could be better on a chilly evening than a warm, spiced, baked apple? Talk about a perfect dessert- you get all of the fiber and nutrients of the apple, while enjoying it's natural sweetness brought out by disease fighting spices.
Serving Size: 1 apple
Ingredients:
4 small, organic apples
1 tablespoon coconut oil
½ cup walnuts or pecans, chopped
2 teaspoons cinnamon
¼ teaspoon nutmeg, ground
¼ teaspoon cloves, ground
¼ teaspoon ground ginger, ground
½ teaspoon vanilla extract
1 cup plain coconut yogurt (optional)
Directions:
Preheat oven to 375 degrees.
Core the apples and cut out some of the apple from the center to create space for the filling.
Meanwhile, heat the coconut oil, nuts, cinnamon, nutmeg, ginger, and vanilla over low heat. Stir the mixture well.
Once melted and well mixed, use a spoon to fill each apple with the mixture.
Place the apples in an oven safe dish. Bake for 40 minutes or until fork tender (depending on the size of the apple, they may take longer).
If liquid has leaked from the apples into the dish, spoon the liquid on top of the apples to moisten them.
Optional: Add ¼ cup coconut yogurt on each apple, sprinkle with cinnamon, and serve.